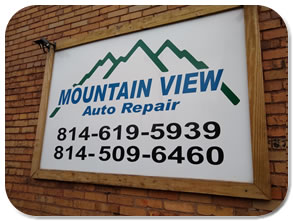 Mountain View Auto Repair is a full service business located in Windber, PA. And by full service, we mean we do just about everything...literally.

We love what we do and take great pride in all of our work. Our motto is "We're not happy unless you're happy". We strive for customer satisfaction in every area we work in. With over 30 years of experience, we know what we're doing and we do it well!

As a family owned business, we offer services that cover just about everything: car auto repair, tire sales, welding and machine work, custom metal designs using CNC Plasma Tables, muffler sales and service, transmission service and repair, official PA State Inspection Station, onsite Public Notary, 24-7 emergency towning service, you get the idea.

The professional automobile repair experts at Mountain View Auto Repair know that you want quality, guaranteed repairs at reasonable prices. That is exactly what we deliver every time! At our shop at the former Dodge Dealership/Windber Brewery building on 402 17th Street in Windber, PA, we provide customers in Windber, Johnstown, Richland Township, Somerset and the surrounding areas with fantastic services at prices that will not break the bank.